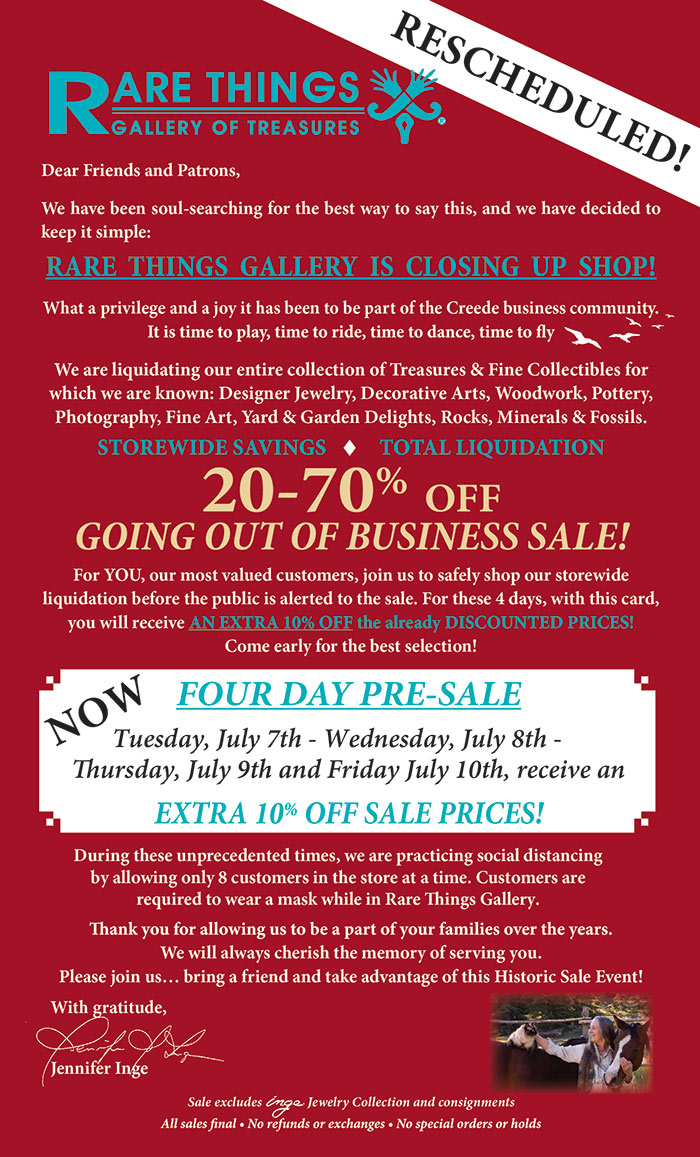 To Our Loyal and Valued Customers and Friends:
As the COVID-19 situation has progressed, it has remained our absolute top priority to protect the health and well-being of our employees, the Creede/Mineral County Community, and you - our customers and friends. We feel a tremendous responsibility to continue to monitor and do our part to help slow this rapidly evolving virus. The scale of impact remains unknown, and we feel it is our duty to do our part to help protect our community. Colorado is now allowing small businesses to be open with restrictions to protect us all. We are beyond happy to say that we are now OPEN Mon-Sat from 9:30 a.m.-5:00 p.m (closed Sunday). We sanitize touchable surfaces daily and have hand sanitizer throughout the Gallery, masks available, and are practicing Social Distancing. We welcome you to Creede with open arms and big hugs from 6 feet away. You can also shop with us virtually online via Facebook messenger, by phone (719-658-2376) or email (rarethingsgallery@yahoo.com). If you need a gift for anyone in your life, let us know and we will wrap it up and offer curbside pick-up, shipping and possible home delivery in Mineral County. Thank you for your understanding. Stay safe and brave…and we hope to see you soon.
Thank you for your understanding. Stay safe and brave…and we hope to see you soon.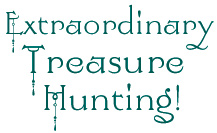 An eclectic gallery with a museum atmosphere, Rare Things offers designer jewelry, antiques, decorative arts and fine collectibles. The adventurous traveler to out-of-the-way Creede will be rewarded with sophisticated shopping, theatre and dining fare. Resting below dramatic cliffs near the headwaters of the Rio Grande, this colorful mining town is a playground for visitors of all ages and interests.
Established in 1974, Rare Things Gallery thrives in an unlikely business environment by offering an unusually vast and varied inventory. Within the 3000 square foot showroom, niches hold hand carved furniture and home accessories, ledges are filled with gems and minerals from every continent, and antique showcases display classic and unique jewelry and artifacts. Textured walls are layered with paintings, pastels and photography from local artists and customers often comment on the "incredible displays" that present hand blown glass, pottery, woodwork and sculptural art.
Featured in Rare Things Gallery is the work of owner/designer Jennifer Inge. Her excellent eye for design, fine metal working, stone setting, and above all, a constant demand for quality, are evident throughout the gallery. The Inge Horsehair Jewelry Collection is classic and timeless in style, and is appreciated by horse-lovers as custom mementos of equine friends.
The mystique that is Rare Things is an adventure you don't want to miss! The easygoing ambiance invites lingering for hours, and a knowledgeable staff brings to life the histories and allure of this global collection. Rare Things Gallery is a unique destination well worth the scenic drive!