Rare Things Gallery is NOW CLOSED!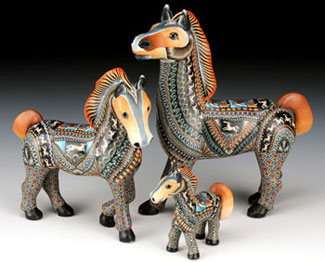 Jon Anderson - Fimocreations
Jon Anderson is simply the most accomplished polymer clay artist in the world today. His Fimo designs show the influences of classical Moorish motifs, Native American spirit figures, ancient petroglyphs, Celtic themes, and more. Fimo is a polymer or non-terrestrial clay that Jon blends and mixes to create his own palette. To hold a Jon Anderson Fimo animal is to love it! Because the animals are individually handmade, no two are exactly alike. Once the design tiles are all used, that design is gone forever. This renders each piece unique and collectible. Artist's Website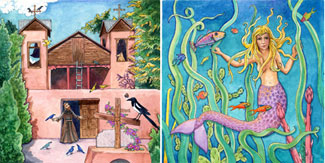 Carolyn Barford - Ceramic Tiles
In Carolyn Barford's words: "After I graduated from Hartford Art School with a BFA in 1970, I set out for the western adventure. I had no idea what I wanted to do artistically. I only knew I wanted to do it in the Southwest and so I headed out with my carving tools and a journal to the mountains and deserts. I found myself living on a farm in Colorado, learning to raise animals. I began drawing some little animal characters as if they were living my life.They seemed to be doing a good job of it and so they developed a life of their own and traveled all over in search of fun. In recent years , I have been enjoying painting with glazes on ceramic tile and have been reproducing my watercolor paintings as notecards and prints. Now I have made my work available as printed ceramic tiles. I hope you find some of your own story in these images." Artist's Website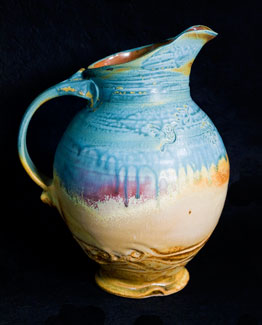 Will & Johanna DeMay - Pottery
Will and Johanna Demay make each piece by hand beginning on a potter's wheel. The pieces are decorated using glazes and techniques developed over many years and then fused together in a kiln. The process can take months, and each piece is a true masterpiece of their imagination. They incorporate a bit of nature into their pieces, reflected in colors or actual animal embellishments on the pottery. Recently, the DeMay's have chosen a beautiful beige/black/green/red color scheme that they have wanted to do since they began…and the outcome is exceptional!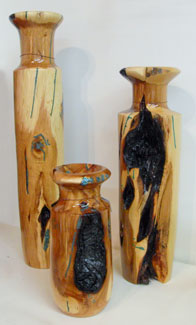 Geri & Ronnie Dunnington - Wood Art
Calling Lake City, Colorado their second home, Ronnie and Geri Dunnington spend much of their time working with a lathe and turning Rocky Mountain juniper into custom vases, jars, and lamps. They search out and gather wood left behind by forest fires around Gunnison, Colorado. Turquoise inlay enhances the natural beauty of the wood and gives their elegant pieces a southwest flavor.
Keith Evans - Jewelry
For over 20 years, Keith Evans has been creating unique southwestern style jewelry pieces. Born and raised in Arizona, Keith learned many different trades and traveled many roads. While building furniture in Santa Fe, he became friends with and started working for a respected Navajo Silversmith. Always admiring the Indian style of jewelry, he learned about and created his own signature pieces. He is constantly in his studio in the artisans' community of Taos, New Mexico, working on new designs and variations of his one of a kind jewelry pieces. Along with Rare Things Gallery, his work has been exhibited in galleries in Beverly Hills, Santa Fe, Taos, and New York City.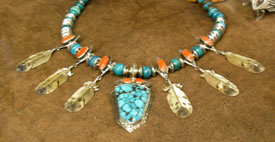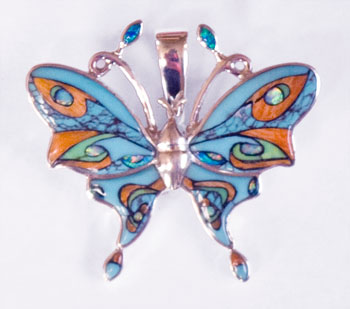 Michele Foster - Jewelry
Michele Foster has been designing jewelry since she was old enough to hold a crayon, although her formal training was in literature language and dance. Her colorful inlay line, featuring semi-precious stones, coral, shell and cultured opal, expands from southwestern origins to embrace a broader range of contemporary and traditional cultural inspirations. She lives and works in southern California and believes it is the customer who finally transforms her imaginative designs into jewelry that brings joy.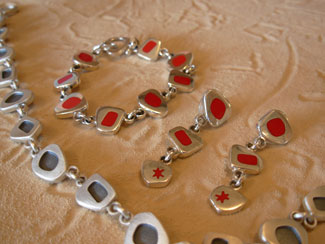 Jan D. Gjaltema - Jewelry
Influenced by his education and experience in architecture, Dutch born Jan D. Gjaltema combines the linear and structural with the modern and forward look, to produce a most varied and distinctive collection of handcrafted sterling silver, brass and copper jewelry for both men and women. In 1983, Jan turned his full creative attention to fine jewelry design. The results of his efforts have been nothing short of spectacular. His jewelry graces fine galleries and museum gift shops throughout Europe and the United States. Artist's Website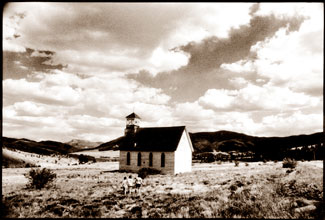 Libby Goff - Photography
Libby Beall Goff is an artistic photographer who exudes a zest for life. Her photographs combine a refreshing mix of everyday humor, societal reflection and spiritual hope. With 20 years of experience in traditional black and white photography, Libby has been published in magazines, coffee table books, music videos, and documentary films. Her photographs have been exhibited in twelve selected exhibitions, 42 private collections, and many related commercial projects.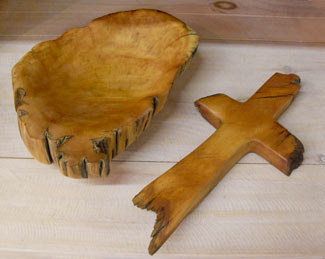 Jeffrey Henderson - Wood Art
Jeffrey Henderson was born in Louisville, Kentucky and raised in Henderson, Kentucky. In 1997, he fell in love with the mountains of Creede, where he currently resides. Jeff worked as a carpenter with Brian Anderson on the famed "Boat House" of Creede, which was featured in Architectural Digest, June 2007. His first artistic works were bristlecone pine bowls given as gifts to friends and family.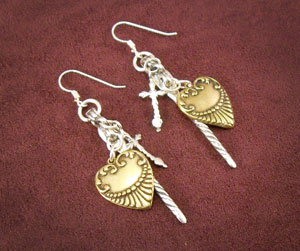 Paige Innerarity - Jewelry
Paige Kemper Innerarity began designing jewelry over 20 years ago. She has collected beads and findings from all over the world and incorporates antique as well as contemporary elements to create unique necklaces, bracelets and earrings. She believes that beads tell a story and uses them with silver and gold to express herself and to allow others to enjoy the romance and beauty of her collection.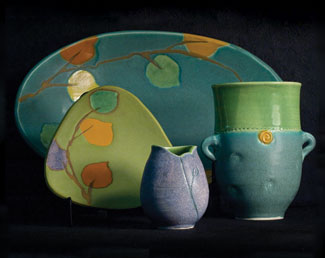 Glenda Jordan - Pottery
Glenda Jordan fell in love with pottery while working on her undergraduate degree in speech therapy at Texas Women's University. She left the teaching world to pursue pottery full time and has been a full time ceramicist for over 30 years. All of Glenda's work is designed and handmade in her studio in Berkeley, California where she hand throws and builds, paints and fires the pieces. Glenda uses a special glaze process which she developed, similar to a batik process. "My work is a continual dance of marrying these three elements: form, decoration and color."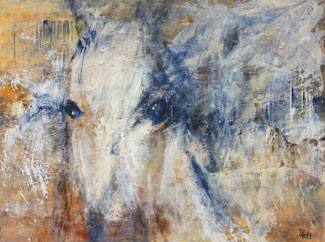 Sam Keith - Paintings
In Sam Keith's words: "Living and working in East Texas and the mountains of Colorado, I work in acrylics, mixed media, and fine art photography. I have studied painting and drawing with Jerry Newman, watercolor with Frank Gerrietts and Don Andrews, and mixed media with Stephen Quiller. I've spent much time looking for "the light"....both in my work as well as in life. I stand in awe of genius, both in man and nature. My inspiration comes from the spiritual, the mystical....great music, great books and dreams. My work is about feelings and emotions; with subject seldom the focus. My art reflects who I am as I try to transfer what's within to paper or canvas. This is my effort to be honest to my emotions....hopefully I've let a few escape and have achieved that goal."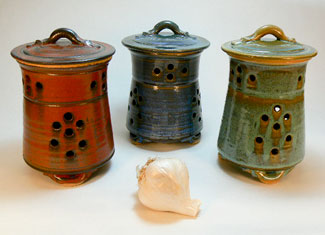 Dick Lumaghi - Pottery
Dick Lumaghi is a potter living and working in Abiquiu, New Mexico. A former teacher of Eastern and Western Philosophy, he has been making finely thrown, high-fired stoneware and porcelain for over 25 years. His work is functional pottery for domestic use and is strongly influenced by Japanese and English country pottery. Casseroles, steam pots, garlic cellars and match strikers are just a few of his unusual pieces in a variety of glazes, designed for the discriminating and creative cook. Artist's Website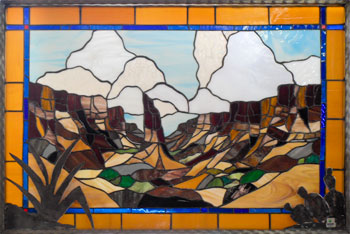 Kay Malouff - Stained Glass
For more than 30 years, local San Luis Valley artist Kay Malouff has masterfully manipulated light, color and texture to produce beautiful custom stained glass art.
Kay received her B.A. at Adams State College in Arts & Art Education with an emphasis in design and drawing, and is accomplished in all phases of stained glass arts. She is a member of the Colorado Glass Artists Fellowship.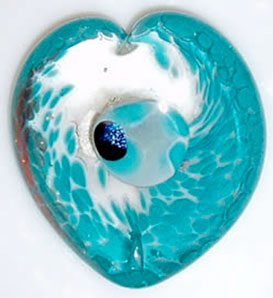 Karole Sharpe - Glass Art
Since 1980, working with glass has been Karole Sharpe's passion. Glass has been a never ending source of inspiration for her and she is constantly learning new techniques and exploring new methods of expression. She specializes in creating one-of-kind glass sculptures using a variety of techniques. Throughout her career, she has taken numerous classes to learn different techniques of working with glass; this allows her work to be constantly new and evolving.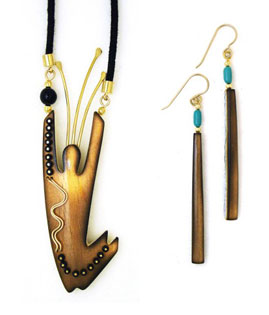 Jeff and Myan Sorensen - Jewelry
The husband and wife team of Jeff & Myan Sorensen of Dancing Elk Designs, have been creating wearable art since 1989. They transform naturally shed mule deer and elk antler into beautiful, useful adornments that reflect their values of honoring wildlife and Mother Earth. They live and work in Crestone, Colorado and have been featured artists at Rare Things Gallery for over 18 years.
Marty and Denise Stecher - Jewelry
Marty and Denise Stecher,along with sons Teslin and Gray, are a family of self taught silversmiths. They live, work and play in southwest Colorado where their enthusiasm for outdoor sports has given them opportunity to visit, study and be inspired by many remote rock art sites. Their sterling silver jewelry depicts the prehistoric Indian petroglyph designs they have found in the cliffs and rocks in this area. They make everything they sell.